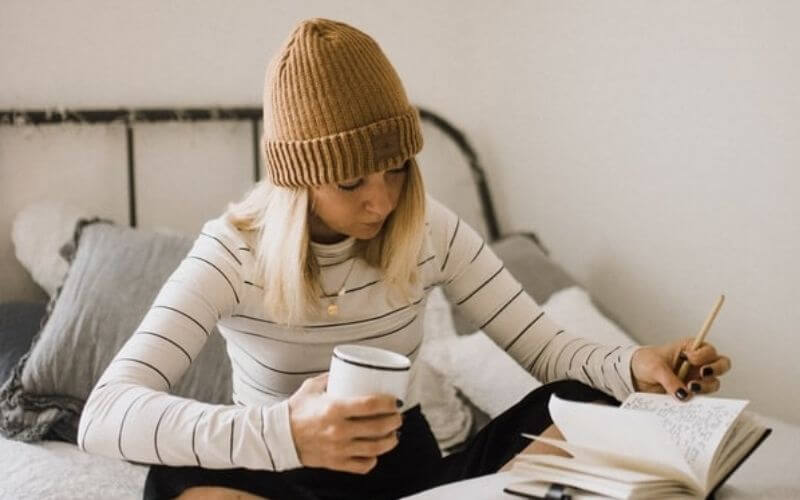 MIRACLE MORNING ROUTINE:THE METHOD THAT WILL MAKE YOU LOVE THE MORNING
In this article, I'm going to tell you about a book called "The Miracle Morning" by Hal Elrod and his method that has radically revolutionized my daily life and increased my efficiency for almost a year.
WHY SO MUCH CRAZE FOR A BOOK THAT SIMPLY WANTS US TO GET UP EARLIER?
This dear Hal explains us that if we have a dream, an ambition, something we want to practice more often, we have to dedicate a moment to it every day, and for that the morning is the best moment. So if we want to be happier and succeed in our life, we must improve our level of personal development, and we can dedicate ourselves to it every morning.
WHY IN THE MORNING?
Because it allows us to start the day in a motivating way
Because in the morning our neurons are more apt to learn (it is scientifically proven, even for those who think they are not morning people)
Because at lunchtime we often have other things to do, and in the evening it's the same and we are tired
WHAT EXACTLY IS THE MIRACLE MORNING ROUTINE?
Hal Elrod recommends us to get up every morning 1 or 2 hours earlier to practice activities that will strongly increase our personal development level. In his book, Hal has defined 6 activities that he believes are particularly effective in improving our potential. The idea is to practice 10 to 20 minutes of each of these activities for 1 to 2 hours, and then to take the normal course of our day metro-work-sleep.
THE SAVERS, THE 6 PERSONAL DEVELOPMENT PRACTICES OF THE MIRACLE MORNING METHOD :
Silence: it is a question of mastering our conscience and reducing our stress by meditating, praying, breathing, reflecting…
Affirmation: we must repeat aloud, write, imagine, affirmations about the person we want to become
Visualization: this consists in imagining what we want to become and imagining ourselves accomplishing it
Exercise: no, this is not a mathematical exercise, but a physical exercise, a sport, to move our buttocks, whether it is by walking, running, doing exercises at home or going to a gym
Reading: in order to acquire knowledge Hal recommends reading a few pages of a non-fiction book every morning
Writing: keep a journal and write in it every morning our ideas, our plans, what we are grateful for, what makes us happy
YOUR MIRACLE MORNING CAN LOOK LIKE THIS:
10 minutes of meditation upon waking
10 minutes of affirmation
10 minutes of visualization
10 minutes of yoga
10 minutes of reading
10 minutes of writing
The important thing is to stick to it every day, not necessarily on weekends, but during the week. According to Hal Elrod, it is after 30 days of practice that we really adopt a habit and really feel the benefits. And it is quite obvious that the Miracle Morning method is only effective if you practice it regularly and over the long term.
I'M GOING TO MISS SLEEP!
According to Hal, the need for sleep is relative and your Miracle Morning will bring you so many benefits that you will not miss sleep even if you sleep a little less.
In my opinion, on the one hand it can be an opportunity to (finally!) get to bed a little earlier. Also, starting the day at this pace automatically makes your body want to adapt and go to bed a little earlier.
DOES IT WORK?
Yes, this method is really interesting to give a big boost to your daily life and improve yourself little by little. However, I think that it is better to adapt it to our tastes, objectives and personal constraints and that it is not necessary to follow Hal Elrod's SAVERS to the letter, nor to devote absolutely one hour to it. Personally, I'm not a fan of affirmations and visualizations and I prefer to replace them with more sports. However, I do much more than an hour.
In fact this method is just based on a very simple principle that we have known for a long time: the future belongs to the one who gets up early! If there are certain activities that you want to do for yourself (or if some/all SAVERS inspire you) then estimate how much time you want to spend on them, and set your alarm earlier each morning to do them. (And this without doing anything else, don't turn on the TV, the radio or check your emails! ). You will see that it will do you a lot of good!
My point of view on this method
Personally, I have been practicing this method for almost a year and thanks to it, every morning I do: 10 minutes of yoga, 10 minutes of meditation, 20 to 30 minutes of jogging, 20 minutes of videos on personal development, 10 minutes of writing and a very good healthy breakfast full of fruit.
I used to be convinced that I was not a morning person at all, but a total evening person. I used to get up with great difficulty, I systematically set back the alarm clock, hated to get out of the comforter and was always late.
From the moment I started to apply this method, all that changed. I started to like the morning, I was happy to wake up, in the evening I thought about what I was going to do the next morning, and little by little my body got used to it and I also went to bed earlier.
A real miracle for me who never managed to go to bed before 1am! Moreover, I immediately felt that my days were much more dynamic, that I arrived at work in good shape and with a totally alert mind. At 9am I already had the impression of having accomplished a lot of positive things, which is very motivating!
Finally, activities such as yoga and meditation allow me to be much more serene and I felt, while I was going through complicated moments, that thanks to this morning ritual my morale was much better able to face difficulties.
SO I CAN ASSURE YOU THAT THE MIRACLE MORNING WILL BE PARTICULARLY USEFUL IF :
you have wanted to start exercising for a long time but you can't because you are tired in the evening and busy on weekends
you are at a turning point in your life and feel the need for introspection
you are depressed and unmotivated and need a daily boost
you live a fast-paced life and feel like you never have time for yourself
you feel like you have been stagnating for months or years
So try it, create your own morning ritual, set your alarm clock a little earlier, and tell me below what you think!