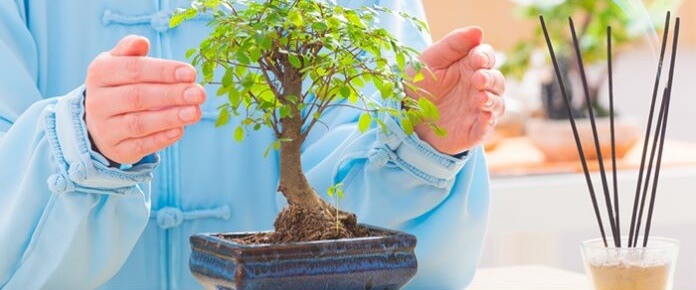 5 feng shui tips for home to live in harmony with good vibes
Many of us are looking for a Zen lifestyle. Whether it is for more joy and happiness, to reduce stress, to change our lifestyle or for affinity, Feng Shui inspires many. This ancient Chinese practice offers a healthier and more positive living environment.
But it's not always easy to put Feng Shui into practice, especially if you don't know much about it. So for a Feng Shui home, zen and full of good vibes, here are some tips that you can all apply easily.
1. Choose your plants well
Feng Shui advises to have plants at home. However, each plant is alive and has its own characteristics. So, it is better to banish harmful plants for an interior, some can be toxic.
Avoid putting cacti in your house, they block the circulation of energy. Prefer a beautiful organic orchid or bamboo stems for those who do not have a green thumb. For bamboos I advise you to buy them in odd numbers. In the link I put you, they sell them by 10, keep 9 and offer one.
2. Keep the bathroom closed
The bathroom is the place where we clean ourselves. We sometimes talk about getting rid of anything toxic when we wash. So, it is advisable to keep this room closed. So always remember to close the door to the toilet and bathroom.
These are also areas where energy is lost, so it's best to close the door to keep the energy in your home. For the same reason, the toilet bowl should always be put down before flushing. My personal tip is to buy a toilet bowl with a brake system.
3. Don't put anything under the bed
For a good and restful sleep, here is the Feng Shui tip: don't store objects or clothes under your bed. Indeed, this blocks the energy and dust accumulates more easily.
Another tip for a Zen bedroom, prefer soft or pastel colors. A color too flashy is exciting for the brain. Also remember to avoid, as much as possible, aligning the bed with the bedroom door.
4. Tidy up your entrance
Always keep your entryway tidy and uncluttered, this article explains "how to apply the precepts of Feng Shui in this often forgotten passageway room". There are also images and ideas of Feng Shui entrance.
But why should you give importance to your entrance? Well, because it is the first and last vision you have of your home in the morning and evening. It is important that this vision is beautiful and relaxing. You can put a bouquet of flowers, for example.
5. Fix the little broken things
Don't underestimate the importance of fixing broken drawers, greasing squeaky doors, changing broken light bulbs, etc. If it annoys you today, it will still annoy you tomorrow. No need to put it off and let it linger.
In short, take the time to take care of all those little things that get on your nerves 2 to 3 times a day minimum. This will save you stress and unnecessary frustration. Your mind will be more serene. You will see, it feels good.
Having a Feng Shui home – the benefits
Feng Shui is an ancestral Chinese art, an ideal way of life for those who are looking for well-being, zenitude, and letting go. In Chinese, feng shui means "wind and water". It honors the circulation of energy, the Chi, for a zen and healthy environment. It offers you more harmony in your home, more serenity in your interior.
It is thus quite naturally that it imposes its benefits and its advantages in everyday life. By following the art of Feng Shui, you ensure a place of living around the plenitude and well-being. Birds singing, soothing plants, soft colors, orderly spaces, are all elements present in the practice of Feng Shui that bring you serenity and comfort on a daily basis.
To remember
I have given you 5 simple tips for a Feng Shui home. They are easy to apply and accessible to all. Of course, this list is not exhaustive. There are other principles and tips to follow, if you want to go further. But you can already remember these and try to apply them at home, you will probably notice a change.
So, do you want to try it?
What is your favorite Feng Shui tip?
You might be interested in these articles: